Samsung Note 9 And Good Lock 2018
Samsung is going to release a new flagship-Galaxy Note 9 in New Yourk in 9 August, there is no big change between Note 9 and Note 8 as per the exposures, however it is said that system interact is the main of feature of this new phone. Crown UX will be installed on each Samsung Note 9, which will turn the user experience of past Samsung flagships.
Recently a new App called "Good Luck 2018" is launched in Samsung store in South Korea, which is able to "Re-design your Galaxy phone", we guess that it is the embryonic form of new UI of Samsung Galaxy Note 9. Good Luck 2018 is similar to a starter, the user may control all kinds of Apps through it.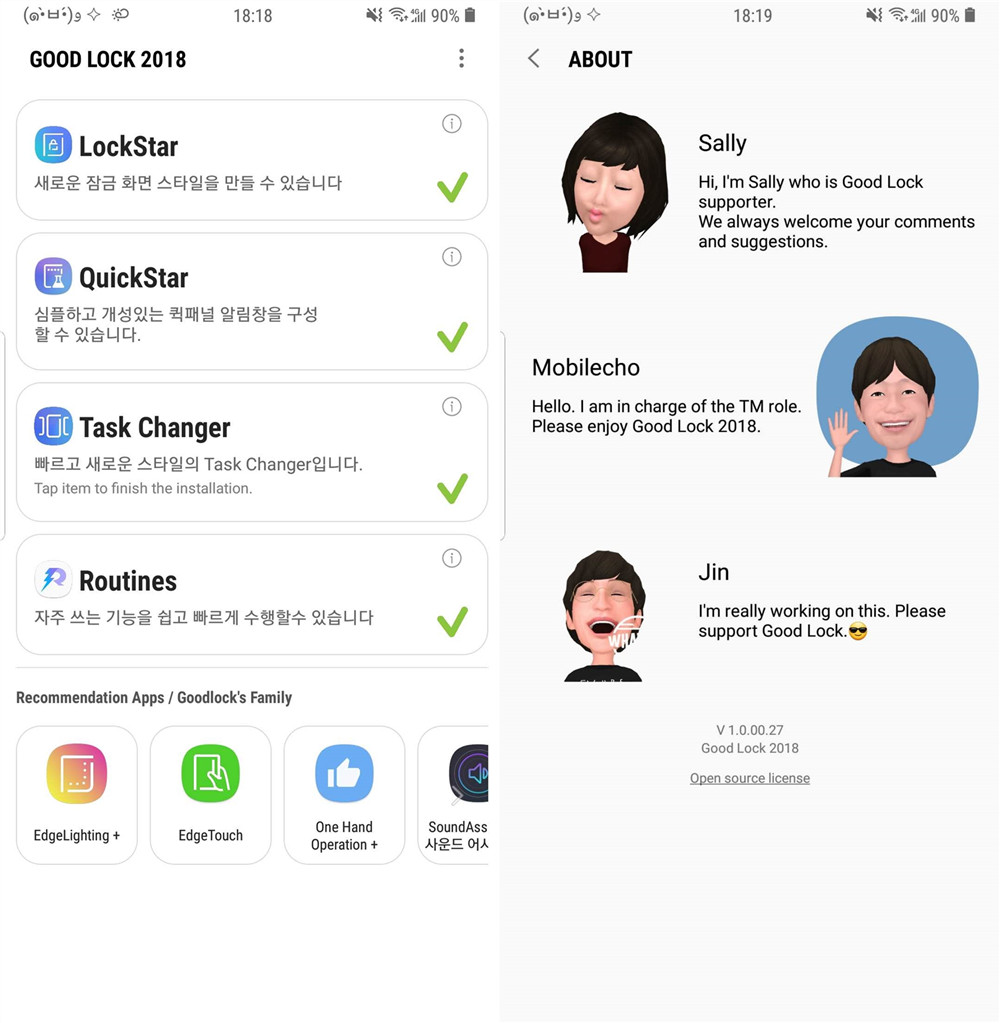 Samsung also launches a series of friends for Good Luck 2018 including One Hand Operation+, QuickStar, Routines, Sound Assistant, Task Changer, Edge Lightning+, Lock Star, Edge Touch. It can run on Samsung S9, S8 and Note 8, non-root phone models needs to be activated by a South Korean sim card and then download it though Samsung App Store.
LockStar is a strengthened screen locking App, the main difference to built-in screen locking setting of Samsung Experience is that LockStar allows you to define the layout of screen locking by yourselves.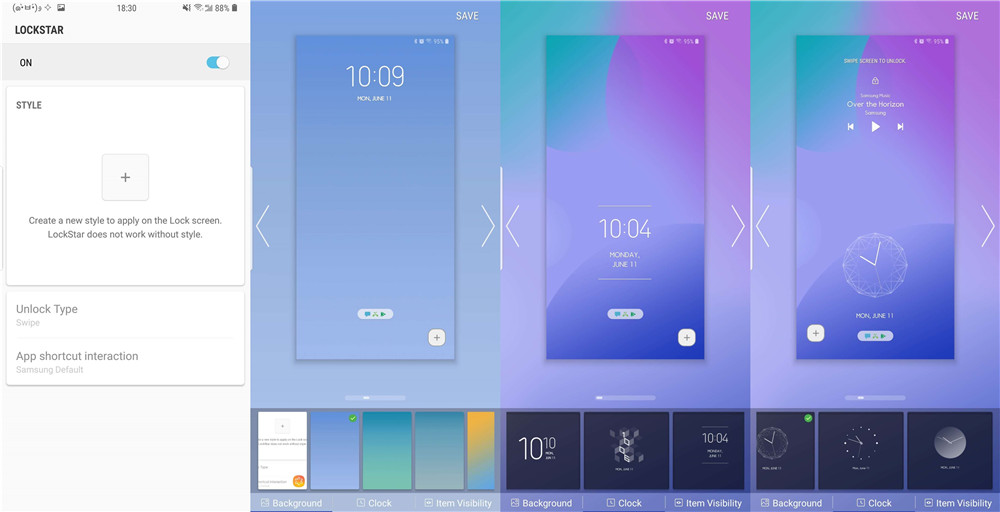 The user may also define the position of time control and music play control, and shortcut way on the locking screen, and even the sliding direction for unlocking. Besides, it supports the preview of user-defined background, in this case the dynamic wallpaper of default subject Infinity will be canceled. The screen looks more characteristic and pluralistic after being locked by LockStar, the position of each element will be not fixed any more.
Task Changer is a newly designed multi-task surface App, up-to-down sliding surface of Samsung Experience is abandoned completely, and three-dimensional design is used instead, it has options of cube, linear, circle and spin.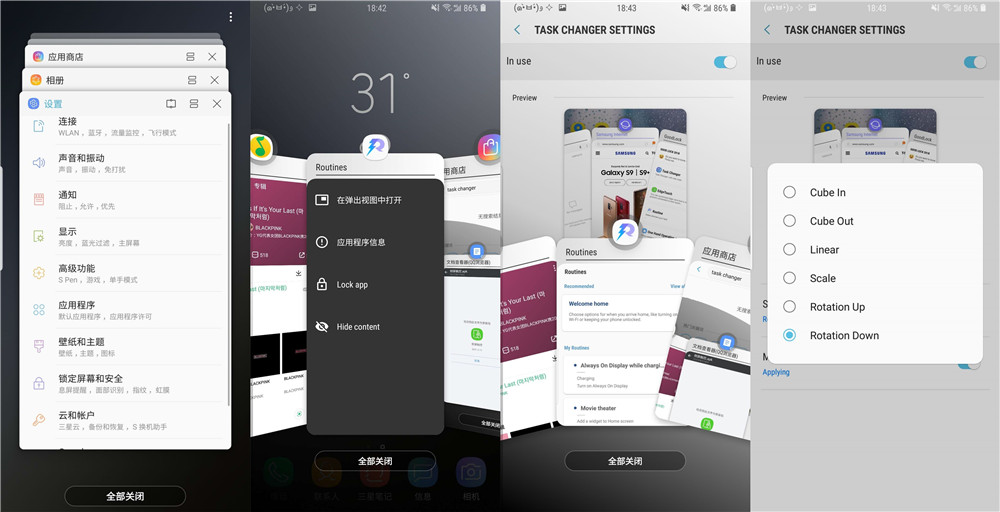 It supports mini mode for single hand operation, application menu of appears when clicking the icon on multi-task surface, and it will jump to floating window or split screen if you press on the task window, which is very convenient. Such three-dimensional multi-task surface is not innovated by Samsung, it take less space and position of icon stands out more clearly, it is in accordance with the operation logic of Android 9.0.
QuickStar allows the user to define the subject of notification, icon of status and notification of multi-window display, DIY is totally supported, the user is able to make unique notification bar and status bar. Besides, it allows the user to define the background of notification bar, color and transparency of shortcut icon, special effect of frosted glass. Amazing effect will be available if the adjustment is done perfectly.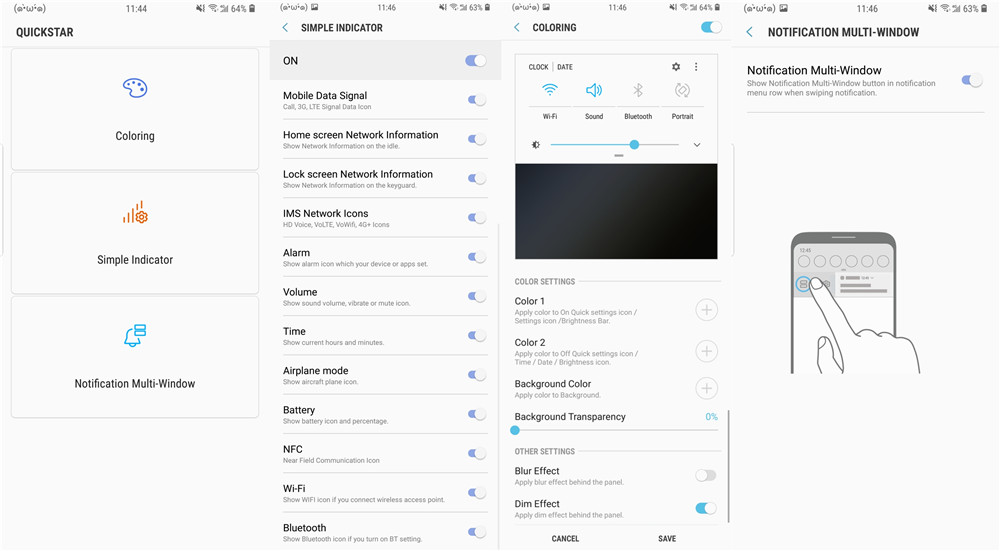 Notification bar features white or black background for the last 3 generations UI, the user needs change the subject if he wants to change the background color, now this problem is solved by QuickStar, definition of notification bar is independent to system subject.
As you know Samsung Note 9 will be released a month later, but DUX DUCIS already has the case, you may buy a case in advance.