Perhaps iPhone SE 2 Will Come With A11
It is said that Apple will release 3 new iPhones in September, this is almost a confirmed news. The rumored iPhone SE 2 still doesn't appear, so it is a myth that if iPhone SE 2 will be launched within this year.
Recently news of a new iPhone being tested on Geekbench comes out.
This new iPhone testing starts on 27 June, the phone comes with 6 core 2.49GHz CPU and 4GB RAM running on iOS 12 system, its motherboard number is D321AP.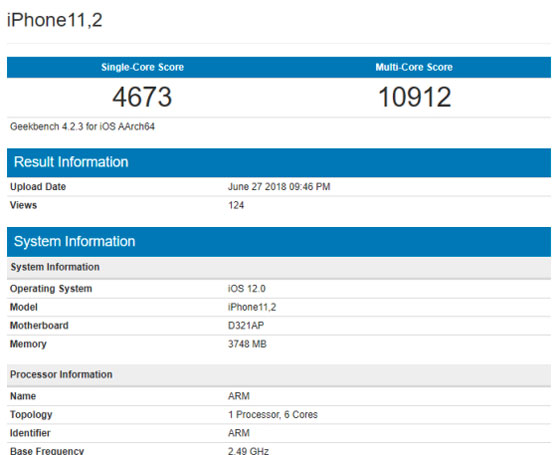 As per Apple's tradition, new ship will be used on annual new iPhone, iPhone X and iPhone 8 have A11 chip, so obviously chip of new iPhones in September must be updated to be A12. However the biggest frequency of the testing iPhone on Geekbench is just 2.49GHz, which is still considered as A11, so we estimate it doesn't belong to the September new iPhone series.
Now it is clear that this new iPhone with A11 is probably iPhone SE 2, such news excites iPhone SE 2 very much even if it can't be 100% confirmed, let's expect the following news together.