First Time For Huawei To Surpass Apple
As per the latest report of global mobile phone market from IDC, sales of Huawei mobile phones have exceeded the sales of iPhone in Q2, it is the first time for Huawei to rank No.2 in global mobile phone market. 54.2 million Huawei mobile phones are sold out, which occupies 15.8%; 41.3 million iPhone are sold out, which occupies 12.1%.

The total sales of global mobile phone market in Q2 is 0.342 billion pieces, slipping 1.8% from the year before. Samsung still ranks No.1, however the sales of Samsung smart phones declines to 71.5 million, which equals to a decrease of 10.4%, its market share falls from 22.9% to 20.9%. Sales of Galaxy S9 and Galaxy S9 Plus don't perform well, they fail to get the expected result. Samsung considers that high end market is more and more competitive and the whole market of smart phone is weak in Q2, that's why theirs sales go down. Now, they expect that Galaxy Note 9 will have a good performance.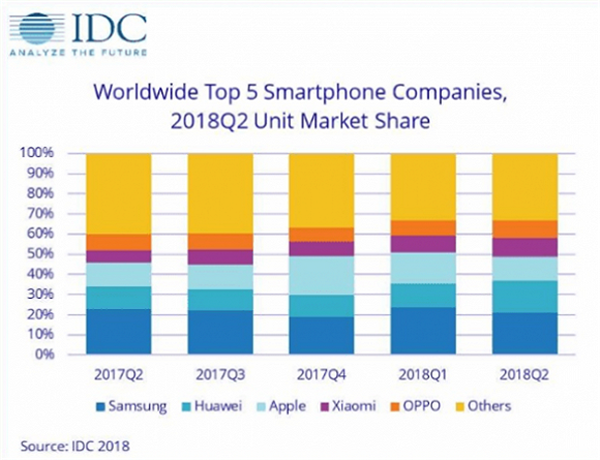 Xiaomi and OPPO rank No.4 and No.5, 31.9 million Xiaomi mobile phones are sold out in Q2, which occupies 9.3%, 29.4 million OPPO mobile phones are sold out, which occupies 8.6%. Comparing to the same time of last year, Xiaomi get a big increase of 48.8%, and 5.1% for OPPO.
CEO of Huawei Consumer Electronics ever introduced at the press of Huawei Nova 3 that total sales of Huawei mobile before July had been more than 0.1 billion, and their annual goal is 0.2 billion, it seems that they are able to realize this goal this year. Furthermore, their goal of 2020 is 0.3 billion, finally rank No.1 in the global mobile phone market.
Chinese brands all perform well in the first half of 2018, they seize more market shares from Samsung and Huawei, and it is the first time for Apple to fall down from Top 2 in the past 8 years. Apple will release three new iPhone, perhaps they are able to return No.2, we can image that the competition will go up.
P20 Series is very important to Huawei's success in Q2. Sales of Huawei P20 Pro has exploded in European market, which may reach to 15 million, this is a big progress for Chinese brand.
Huawei has even surpassed Samsung in Russia in June, it occupies 26.5%, Samsung falls to 23%. In Russia, they surpassed Apple in February, surpassed Samsung in June, and now are the leader in July. This is also the first time for Huawei to win the champion in such an important market.
Looking forward to the second half of 2018, Mate 20 Series will be the biggest trump card if they want to hold the position of No.2, Mate 20 Series will come with Kirin 980, it attracts a lot of attentions as a flagship smart phone, because magnificent innovation will be applied. Three models will be released for different markets, we wish they can help Huawei grow their sales.