DUX DUCIS Is Looking For Partner In India
Original setup of "Samsung + 4 native mobile phone manufacturers" in India has been broken up, Samsung is surrounded by Chinese brands including Xiaomi, OPPO, vivo, Lenovo and OnePlus are also growing, Apple is going down.
Mobile phone is popularized gradually in India, Chinese manufacturers are striving for big share in India market, Xiaomi, OPPO and vivo have seized the advantage, they are now big challenge to Samsung which is the sales champion in the past 6 years.
Xiaomi succeeded in running beyond Samsung and becoming the new champion in Q4 of 2017. As CEO of Xiaomi, Leijun wrote in his public letter "Who Is Xiaomi? What Does Xiaomi Fight For" that Xiaomi already ranked No.1 in India and reached the top place in 15 countries. Xiaomi is proving that their business mode can be copied to any country successfully. As per the statement from Xiaomi's IPO prospectus, India market is super important to Xiaomi's globalization strategy.
Samsung decided to strike back, and did low price promotions, finally got the same market share as Xiami in Q2 of 2018. As per the report from market investigating company Canalys, totally 32.6 millions mobile phones are sold out in Q2 of 2018, which was up 22%, year on year. Both Xiaomi and Samsung take up 30%, vivo occupies 11% and OPPO occupies 10%, Apple even disappears from top 4.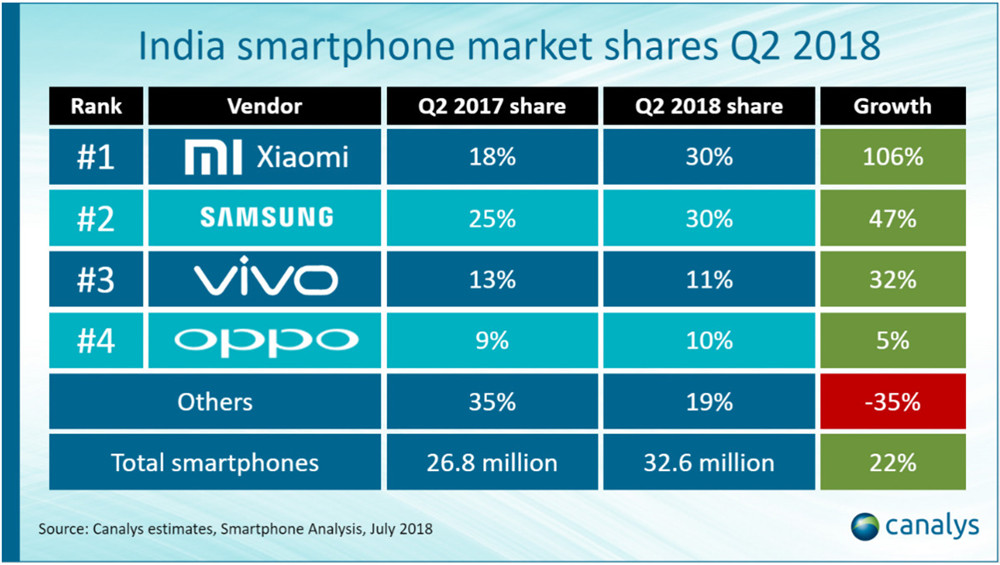 As the worldwide leader in mobile phone industry, Apple performs bad in India market. As per the report from market investigating company Counterpoint, iPhone's market share had been fallen from 59% to 35% in high end market (470USD or above), only 3.2 millions iPhones were sold out in 2017. To combat price battle, Apple even tried to lower their prices in India and began to lowered their prices of iPhone, iPad, Mac and Apple Watch from July of 2017, but got little effect, iPhone's sales was even less than 1 million in the first half of 2018, it only occupied 2%.
Obviously Indian market is going to be more and more competitive, both Samsung and Xiaomi have built factory in India.
India has a population of 1.3 billion, but only 17% people is using a smart phone, it means that India is a super potential market for smart phone, it attracts many Chinese brands. Now it is still the popularizing stage for smart phone, Xiaomi, vivo, OPPO and Huawei are invading the market and have already changed the setup.
Xiaomi started to aim for India market from 2014 and listed it as an important part of its globalization, they had a goal of becoming the champion in India within 3-5 years.
Xiaomi launched Redmi Note 3 in 2016, it was very hot and popular in India. The 500th customer service center was open in 2017. Comparing to some high end brands, Xiaomi is able to make high quality and cost-effective products, now India is the second biggest market for Xiaomi.
Besides, Xiaomi sells mobile phones directly to retailers in India, they cut out the middleman, as a result it saves some cost and improves the efficiency, and ratio of offline sales is also improved. Indian government starts to impose 10% tax on electronics products from July of 2017, which is a bad news to online sales, that's why Xiaomi and other Chinese manufacturers put more attention on offline sales.
"Setup of retail shops is very important for mobile phone sales in India, as it is a big country. It is easier for a mobile phone manufacturer to get success in India if they have a proper setup of retails shops", said by Kiranjeet Kaur, analyst of IDC.
Seen from the prospectus, Xiaomi has sold out 90 millions mobile phones in 2017 and returned to top 5 worldwide. Its oversea revenue rises from 9.1 billion CNY of 2016 to 32.1 billion CNY of 2017, which takes up 28% of the total revenue, it performs very well especially in India. Xiaomi sales ranks No.1 in Q4 of 2017, which is 26.8%.
OPPO and vivo also keep growing in India, however they can feel a big pressure when Xiaomi is going up quickly, as a result they decide to adjust their sales strategy from offline to online.
Will Yang, Indian Brand Director of OPPO, told Reuters before that now OPPO and vivo sell mobile phones mostly through Amazon and Flipkart, they hope online sales will grow quickly.
However, Huawei doesn't perform well in India among Chinese mobile phone brands, they aim for medium and high end market in India, the consumers don't like it. They try to launch low end mobile phones later, but need more time to catch up with those Chinese competitors. As per the data from Counterpoint, Honor Series takes up 3.4% in Q1 of 2018, which ranks No.5 in India market, it is equal to a 146% growth year on year.
Indian mobile phone market has a big change from the second half of 2017, original setup of "Samsung + 4 native manufacturers (Micromax, Intex, Lava, Karbonn) is replaced with "Samsung +Xiaomi+OPPO+vivo+other Chinese brands".
As per the report of "The Economic Times", 3 Chinese brands including Xiaomi, OPPO and vivo have got a big growth of sales in 2017 in India. Vivo has grown by 6 times, Xiaomi and OPPO have grown by 8 times. On the other hand, Indian biggest manufacturer Micromax has dropped its sales to only 561.4 INR, which means 42% down, another native manufacturer Intex has fallen its sales to only 436.4 INR, which means 30% down.
Samsung and Apple try to strike back all the time during Chinese brands are growing.
High end market (400USD or above) is now also threatened by Chinese brands. As per the data of IDC, OnePlus ranks No.1 in high end market in Q1 of 2017, it even takes up 57.1%. iPhone takes up 37.8%, ranking No.2, and then Samsung, but they only take up 3.6%.
According to the data from CyberMedia Research, mobile phones at a retail price between 10,000 INR and 20,000 INR take up 38% in 2017, Indians are willing to spend more money on mobile phone. As one the biggest mobile phone market in the world, high end mobile phones are now in a path of quick growing.
Apple never plan to give up Indian market, they try to use iPhone SE with low price to enlarge its market share. For example, the price of iPhone SE made in India is lowered from 27,200 INR to 26,000 INR in 2017, which means 4.3% down. Price of entry level iPhone 7 is also lowered from 60,000 INR to 56,200 INR, which means 6.4% down.
Besides, tax rate of iPhone drops from 13.5% to 12% after GST is realized. CEO of Apple Cook ever hinted that India would be next China, he looks to further increase. However, it seems that Apple has a long way to go if they want to strike back.
Samsung also faces big pressure from Chinese brands. Samsung set its Indian branch in 1995, and mobile phone department was founded in 2005, finally had over 50,000 retailers by 2014, they have spent over 20 years on Indian market. It was always No.1 in Indian mobile phone market before 2017, and finally surpassed by Xiaomi in Q4 of 2017.
Samsung's new factory in Zone 81 of Noida India was open in this July, it is the second factory in India, and Samsung's biggest one all over the world. "New factory will help Samsung save the launching time for new mobile phones, which will be an advantage for Samsung", said by Tarun Pathak, an analyst of Counterpoint.
"Samsung is building a complete ecosystem" said by Jaipal Singh, an analyst of IDC. They also produce TV, refrigerator except mobile phone, Indian high end manufacturing industry is still not developed, Samsung will enlarge its advantage at this point.
Samsung has also spent a lot of time and money on enlarging its offline sales channels, and employed 70,000 workers in Indian. Besides, they have 150,000 retail points all over India. Their new factory will be open in2020, will it be the leader again in India at that time?
Why do Apple, Samsung, Xiaomi, OPPO, vivo consider India as an important market for their globalization? Because it is really a potential market.
Popularization of smart phone is realized step by step all over the world. Europe and North America start the popularization from 2010, and finish it in 2013. East Asia including China start it from 2011 and finish it in 2014. India is considered as one of the Asian, African and Latin American states, popularization start very late, current India is even considered as 10-year-ago China.
Why Is the popularization in India still not finished? Because Indian infrastructure is still not advanced. We believe that more and more Indians will use mobile phone if 4G is realized.
As per the public data, now India has a population of 1.324 billion (China, 1.379 billion), but only 22% Indians are using mobile phone, even less than 1/3 of Chinese mobile phone users, and 1/2 of worldwide mobile phone users, that's why every manufacturer agrees that Indian market has big potential, eMarketer estimates that 0.337 billion Indian will have smart phones in 2018, which equals to 1/4 population and means 16% up, much faster than any other country.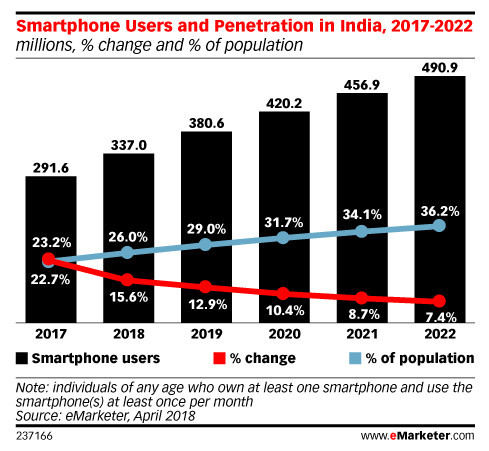 "Smart phone will be cheaper and cheaper, and also mobile data. The process of urbanization is going on. I do believe that smart phone users will rise to also 0.5 billion in the following 4 years", said by Chris Bendtsen, an analyst of eMarketer.
DUX DUCIS specializes in manufacturing mobile phone cases and covers for Xiaomi, Samsung, OPPO, vivo, OnePlus, Huawei, iPhone, and is looking for Indian partners and distributors. We keep launching new products every week, and do believe the cooperation will benefit both parties.