2017 Southeast Asian Mobile Phone Market
Chinese mobile phone brands are exploring the oversea market in these two years, and getting more and more market share in South East. As per the report from IDC, there are 3 Chinese brands in top 5 of 2017 Southeast Asian mobile phone market, which are OPPO, vivo and Huawei. Same as 2016, OPPO ranks No.2 and Huawei ranks No.4, ASUS ranked No.3 in 2016, but falls out of top 5 in 2017 and is replaced with vivo.
Southeast Asia includes Indonesia, Malaysia, Myanmar, Philippine, Thailand and Vietnam in IDC's report. The total sales of mobile phone in this area in 2017 reaches 100 millions, which falls 0.6%.
Matthew effect appears, vivo rises by over 100%
Comparing to 49% of 2016, top 5 companies occupy 63.8% market share in 2017, Southeast Asian market is going on a similar way as China, Matthew effect appears, top 5 companies are occupying more market shares.
Seen from the picture as below that sales of each top 5 company rises in 2017 except iPhone, especially for Samsung, they have sold 29.3 millions smart phones, which rises 25.8%, and still ranks No.1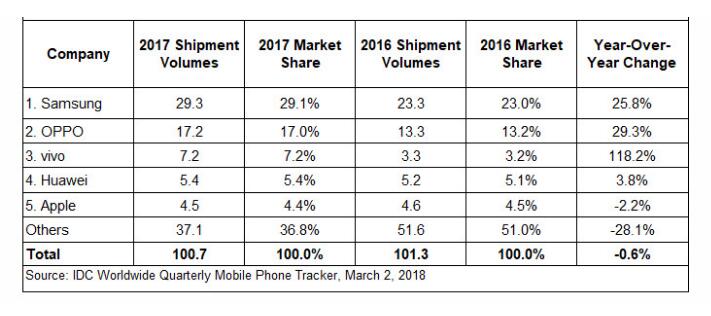 There are 3 Chinese brands in top 5, all of them have improved their sales. The increase of vivo reaches 118.2%, 29.3% for OPPO, but only 3.8% for Huawei.
iPhone has decreased by 2.2% and still ranks No.5, same as last year.
Sales in Myanmar and Philippine decrease, because local suppliers have suffered decrease. Several small local brands lose more and more market shares, as a result, Samsung, vivo, OPPO and Huawei get stable positions in the medium end market (200-400USD) and low end market (100-200USD).
Why does the whole sales of Southeast Asian market decrease? "Top 4 brands are more and more popular, less people buy a new smart phone to replace the old one. Medium end smart phone users prefer not to buy a new one, because their current phone has a good quality, and a higher budget is required if they plan to buy a new one." said by Jensen Ooi, senior analyst of IDC.
Medium end market has got an increase of 53%
Low end market still occupies 38%, but medium end market has got an increase of 53% in 2017, such increase is mostly finished by top 5 brands. Medium end market occupies 27% (27.1 million pcs), it was 17% (17.6 million pcs) in 2016.
Galaxy J Series of Samsung ranks No.1 in the medium end market depending on its proper price. OOPO and vivo are trying their best to enlarge their brand influence and promote their F Series and V Series by celebrity endorsements and high-key marketing activities. Nova Series of Huawei also joins the competition of medium end market, and Apple is also permeating this market by using some old models including iPhone 5, iPhone SE and iPhone 6.
4G smart phones rise by 44% and occupy 81% (81.1 million pcs) of the total smart phone market, it was 56% in 2016 (56.2 million pcs). 3G smart phones are manufactured by local brands and foreign brands and targeting low end market.
Demand of 4G functional phone is very low, only 250 thousand pcs are sold out. Those 4G functional phones are mostly used in the big cities, 2G functional phones are used in small cities. 4G functional phone was already launched in Thailand in 2016, launched in Indonesia and Philippine in 2017.
People prefer big screen smart phone
Tablet size smart phone (5.5-7 inches) has increased by 71%, which reflects that people there prefer big screen smart phone. Such smart phone occupies 35% (35 million pcs) of the total smart phone sales, it was 20% (20.5 million pcs) in 2016. However, 5.5 inches smart phone still occupies 50% (50.5 millions pcs). Why does it increase so quickly? Because consumptive habit is changing, and suppliers are launching thin edge smart phones.
Regarding the tablet size smart phone, Samsung's sales ranks No.1, and vivo takes the biggest increase.
Local manufacturers strive for surviving
Local manufacturers are still lashed by top 5 brands in 2018, because people prefer to accept popular brands. So how to survive in the competition?
Pander to the consumers' favourite and lower the prices, no more effective measures are available. People prefer big screen smart phones, dual cameras, thin edge and localized AI function are also popular, Jensen Ooi suggests local manufacturers to launch smart phones with the above functions and Android Oreo Go (this edition is designed for low end smart phones). Besides, the price must be lower than 200USD.